I know I haven't posted anything in a long time. You are just gonna have to deal with it. I have been working on internet issues at home and have generally had nothing much to say.
So, it all started when I was tweaking my new laptop. Yeah, I know I'm a geek. I have actually had some of my friends nickname me tweak in the past because I spend so much time doing things to make my computer faster. And, no it isn't because I use Crystal Meth. That shit is the devil! So, anyway, when you buy a new computer there is always some extra software on them usually in the form of trial versions. I, for one, generally despise paying for software. Especially these days when there is so much freeware and open source stuff available to all. So, to hell with the Norton 360 trial and the MicroSloth Office suite trial. So, I uninstalled that crap and other miscellaneous garbage that was tainting my hard drive. I also disabled a bunch of unnecessary services and programs from starting when I boot the machine. So, at some point it followed that I rebooted the machine. And, what would you know, the innerwebs ceased to exist on my new lappy. BOO!!
So, the first thing I figured was that it was due to me disabling a service or some Toshiba crapware from starting. So, I begrudgingly re-enabled everything that looked obvious. No dice. Fuck! Then I proceeded to re-enable everything. So, now if course it takes ages to boot up and still no internet. Piece of shit!!! So, I thought maybe something got broken from the software un-installations. So I investigated that a bit. And of course tinkered around with the wireless internet settings to no avail. Then I tried plugging it in to the RJ-45 Ethernet jack in my living room that feeds my AT&T Uverse TV box. Well, that still didn't work. So, I was trying various things from a command prompt (yeah, the old text way of controlling computers by typing in commands). It seemed that the ipconfig commands were accomplishing absolutely nothing but producing a bunch of strange errors. So, the back door was closed and I was not sure how else to fix this. I tried researching things on my old laptop and tried these solutions and still had no luck. Mind you, this has all stretched over several days. In the process, I also fiddled around with settings on the wireless gateway/DSL modem and also did numerous resets on it. This of course killed off my wireless connection entirely. I was beginning to think that the wireless portion of the router was fried as the wired connection was still working fine. So, now I'm stuck using my old laptop with the broken hinge and floppy lid on a wired connection with a cable that is just barely long enough. What a bummer! At least I got some semblance of internet connection at this point. Yes, you might add that I could have updated my blog, but my sole burning desire was to get the wireless connection working on all machines, especially on the new lappy that has morphed in to a music playing brick. So, after a week fucking around with all this, I found the Norton removal tool. Which was supposed to remove and fix corrupt installations of any Norton product. Well, it kept prompting me to remove the damn program I was attempting to remove in the first place!! ARGH!!! Stupid fucker!!! So, I gave up and did more productive things. Back to this later.
So, Friday I went home, did some cleaning and waited for people to show up for game night. Jenny-Marie and her friend were the only ones that showed up. It was still cool though. We played a dice game called Chicken in the Mid-west and Farkle in California. You roll six die and the goal is to roll as many 1's, 5's and 3-of-a-kind that you can. It is pretty fun and addicting. It is gambling with points and not money. So, we played for a few hours and then J-M and I ended up having some very interesting conversation about our spiritual beliefs and other related topics. I come to find out that we vibrate with similar energies in that respect. Very cool stuff.
So, Saturday, I did some cleaning/organizing in my bedroom. I then went on a motorcycle ride and ended up meeting a guy that wanted to look at my motorcycle for possible purchase. He was a Harley guy and was looking for his first sport bike. He spent less than 5 mins looking at my bike and said he wanted something a little cleaner. Well dude, maybe you should be looking at more expensive bikes then. At least it wasn't very far out of my way to go to where he was. Any excuse to go ride the motorcycle is a good enough excuse for me. I spent Saturday evening with my friend Betty. I made some top sirloin steaks (from Omaha Steaks), baked red potatoes and asparagus. We watched Cape Fear and had some cocktails. She stayed the night as she was a bit too sauced to drive. Fine by me. 😉
Sunday morning, I made my famous beer eggs or beggs for short. They were in omelette form with onion, green peppers, turkey deli meat and pepper jack cheese. I accompanied them with some waffles from the freezer that my roommate made a few weekends ago. I topped them with some fresh strawberries.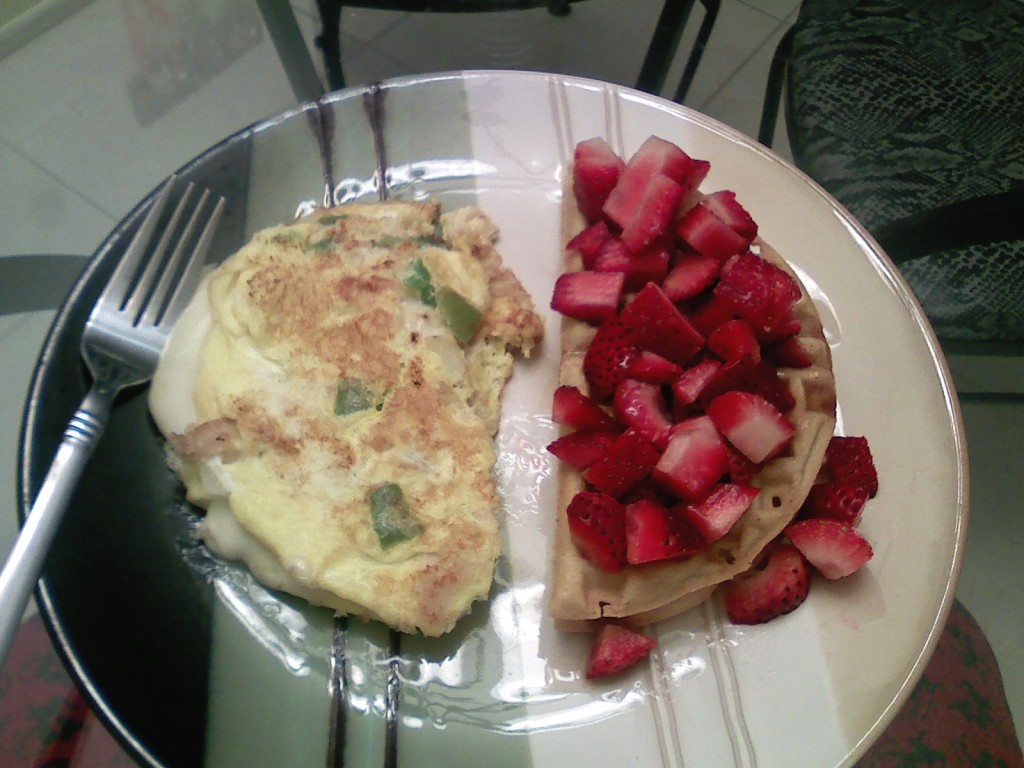 I showered, got ready and drove to Sylmar to meet up with Rich, Lisa, & Kayla to play some disc golf. We all shot poorly. just an of day I guess. I'm still playing with my left arm as my right shoulder is still intermittently causing me pain. We stopped at Sam's club for some fresh hot pizza and then to Von's for some Blue Moon beer. We went back to Rich's and watched the end of the Lakers game. Well, they did, and I did some more motorcycle research. I found that the North Hollywood Honda, Suzuki, Yamaha dealer had some 2007 GXSR1000s for $7999. I have to go check that out I thought. I had my mind set on a 2008 CBR1000RR at this point, but they are pretty equal machines from the reviews I have read and price wins out in the end of my decision. So, I headed over to Jenny-Marie's and we hung out a bit. We did some tarot card readings and chatted about random things. Then I headed home and off to bed as I had to be up for work at 5:30 Monday morning.